Breeding Healthy Dobermans using Genetic Data
Welcome to Doberman Genetic (Breeding) Program - DGP
A Professionally Maintained & Evaluated Breeding Program Using The Latest State Of The Art Technology In Genetic DNA Testing For Inherited Disease and Disorders. Our Primary Goal Is Breeding Genetically Healthy Offspring While Still Respecting The Importance Of Conformation & Temperament. Health First Is Acquired By Preventative Actions Along Side Genetic Testing, Health Screening & Research To Evaluate Potential Participates In Our Genetic Breeding Program To Establish Life's Longevity, Promote Healthier Breeding and Decrease the Incidents of Inherited Diseases In The Doberman Pinscher Breed. Breeding Only The World's Best Doberman Pinschers And Recognized As One Of America's Most Reputable Breeders, Producing The Healthiest Dobermans.
DGP's Vision & Mission Statement
Genetic Breeding
DGP uses DNA data associated with Genetic Disorders & Inherited Diseases commonly found in Doberman Pinschers to establish a Healthy Breeding Program as a preventative strategy to help reduce inheritedrisk while managing Genetic Diversity w/ professional assistance.
Health First
DGP believes Health First as Priority in our Genetic Breeding Program. We understand the importance of Conformation & Temperament when breeding Purebred Dogs but our primary goal is the Best Health genetically possible for our Beloved Breed.
Life's Longevity
DGP focuses on Life's Longevity in the Doberman Pinscher breed. By breeding genetically healthier dogs under strictly managed Professional Breeding Programs, We intend to reduce the risk of passing Genetic Disorders and Diseases to future offspring while reducing COI. .
Research & Evaluation
DGP will need to research ALL Doberman Pinschers entering our Breeding Program. This includes Registration, Pedigree, Veterinarian Records, Genetic Reports, Lab Results, OFA Certifications, etc. Documents will be evaluated by a group of canine professionals, geneticists, veterinarians, breed judges, master breeders, etc.
DNA Genetic Testing
DGP accepts DNA Genetic Testing from Embark Veterinarian ONLY. All participants must submit their Doberman Pinscher's DNA cheek-swab test sample to Embark for genetic results and register with the Doberman Diversity Project. Discounted Embark Test Kits are available online at dobermandiversityproject.com
Preventative Actions
DGP believes that preventive actions in breeding practices can reduce the genetic disorders and diseases found in the Doberman Pinscher breed. Actions that lead to longer, healthier, active lives for our beloved breed. You can change many Dogs' Lives by Supporting Healthy Breeding.
Words From Our Participate
"This Is A Breeding Program That Gave Me Confidence In The Future Health Of My Dog. As Much As I Love Dobermans, I Surely Hate The Genetic Diseases Ignored And Reproduced By So-Called "Professional Breeders" To Future Offspring. I Pray All Breeders Of Dobermans Contact DGP And Start Mating Healthy Dogs (Only, At Least For The Sake Of Our Favorite Breed. Yes, I Totally Understand Conformation And Temperament, But This Should Not Be Valued Above Health Under No Circumstance During A Breeding Program. God Bless The Doberman Pinscher! And All The Responsible, Moral, And Ethical Professional Breeders. Thank You For All Your Hard Work To Better The Breed."
- Tami Shortt & Buster, Tarpon Springs FL
Why Doberman Genetic (Breeding) Program - DGP ?
The Doberman Pinscher is a canine breed that suffers from a hand-full of life threatening genetic diseases. One of the most dangerous being (DCM) Dilated Cardiomyopathy, a heart disorder that can cause instant death to even a young puppy. The great news is these diseases can be reduced and even eliminated from passing to offsprings and ultimately the entire bloodline. The breeding process has strict rules and regulations to be successful. It's easy and simple, breed ONLY genetically healthy Doberman Pinschers with each other to eliminate the possibility of Genetic Disorder/Disease passed onto offspring putting some AT RISK. Never breeding Carriers of faulty genes to other Carriers or Affected (Risk) dogs of the same genetic concern. Health First is acquired by Preventative Actions along side DNA Testing and Research to Evaluate potential participates in our Genetic Breeding Program to establish Life's Longevity, Participates undergo all Breed Club and OFA recommended health test.Promote Healthier Breeding and Decrease the Incidents of Inherited Diseases/Disorders in the Doberman Pinscher bloodlines and ultimately the Breed.
- DGP Breeding Team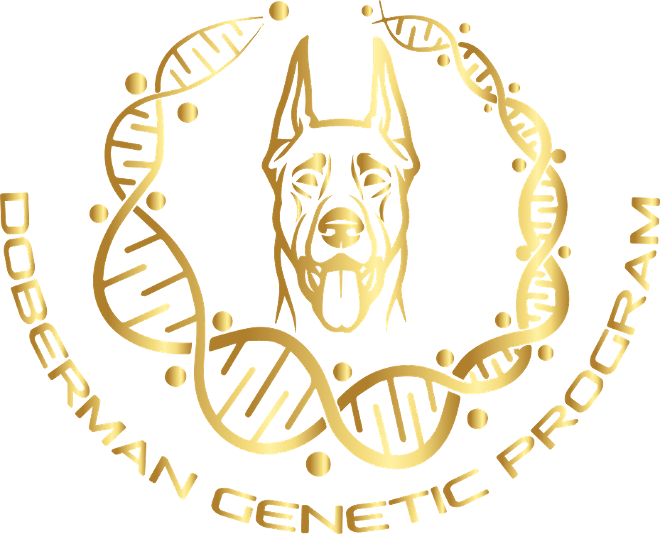 1 (803) 339 0308
dobermangeneticprogram@gmail.com
© Copyright Doberman Genetic Program | All Rights Reserved 2023 | Licensed In Rock Hill, S. Carolina 29730